Let's Talk About
Climate Change
How to convert carbon monoxide emitting from the vehicles into useful gases by experiments?
Carbon monoxide (chemical formula CO) is a gas poisonous to humans and other animals so the option for cars would be to not produce the gas at all! There are many experiments that are attempting to reduce CO emissions through increased fuel efficiency ...
RT @globalgreen: #WaterWise tip: Collect #rainwater & use it to #water your garden. Check out these gorgeous rain barrels!
http://t.co/FvB7…
about 10 hours ago

RT @usedgov: New tech gives teachers tools & flexibility to personalize the learning experience and share resources w/colleagues
http://t.c…
about 10 hours ago
Fun Nature Fact from MonarchsLIVE: While weighing less than a gram, monarch butterflies travel between 2,000 to 3,000 miles for its annual migration! More at www.FSNatureLIVE.org
about 12 hours ago
Lesson Plan: You don't have to travel far to take your students on a bug safari. Students can learn about the diversity of bugs right in their own school yard! Found under the Lesson Plans tab of MonarchLIVE: monarch.pwnet.org/trc/plans.php
about a day ago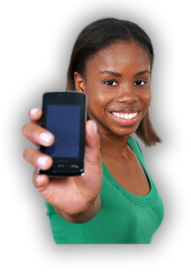 ClimateChangeLIVE Webinars
CLICK HERE for the archives of past webinars:
-- GreenWorks! Action Grants
-- Take Your Class on a ClimateChangeLIVE Distance Learning Adventure
-- Teaching and Communicating about Climate Change
-- Education Resources Highlights – Part 1
-- Education Resources Highlights – Part 2
-- Professional Development Programs for Climate Change Education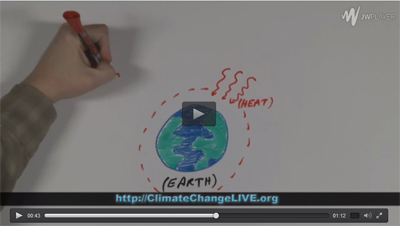 Watch the ClimateChangeLIVE
Distance Learning Adventure Trailer
Welcome to the ClimateChangeLIVE distance learning adventure! The U.S. Forest Service and 26 federal and NGO partners bring climate learning to you through a series of webcasts, webinars, and online climate education resources! The ClimateChangeLIVE electronic field trips are a way to learn about climate change science directly from climate experts, educators, and students. This distance learning adventure provides an amazing collection of science-based, climate education resources and programs, aligned to national science education standards.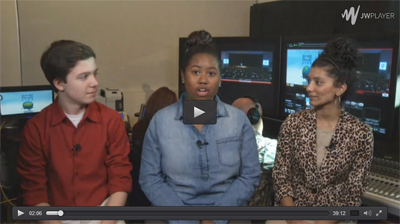 Watch the webcast: Educate, Inspire and Engage!
Features award-winning climate education assembly from the Alliance for Climate Education (ACE).  Videos of youth talking about the impacts of climate change they have experienced where they live. (39 min)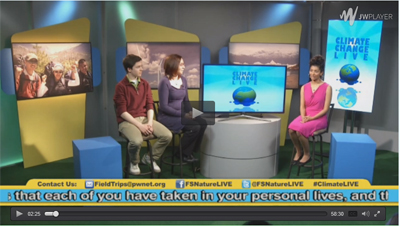 Watch the webcast: Join the Climate Conversation
An interactive event, where students and climate experts discuss climate change and what students and schools across the country are doing to become part of the climate solution.  (55 min)
Please tell us what you think on the EVALUATION.
CLICK HERE for a list of activities to get started with climate change solutions.
CLICK HERE  for information about the GreenWorks! Grant.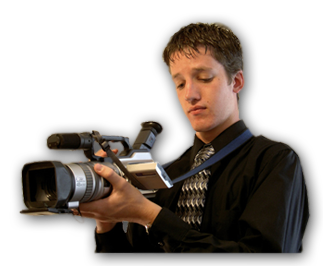 Let's Get
Creative