Let's Talk About
Climate Change
Which state has been the most affected by climate change?
Probably Alaska, but you can check out http://www.epa.gov/climatechange/impacts-adaptation/alaska.html to see what is happening where you live too. Steve Mc. US U.S. Forest Service Leslie here. In the continental US, the northern great lakes...

Fun Nature #Fact from PollinatorLIVE: #Pollinators help produce >150crops – apples, almonds, pears, squash! More at
http://t.co/35XcOA6EG3
about 20 hours ago


Fun Nature Fact from PollinatorLIVE: Pollinators help in the production of over 150 food crops in the United States – that includes apples, almonds, blueberries, pears, plums, and squash. More at FSNatureLIVE.org
about 21 hours ago
Playing a part in protecting the bats is as simple as planting a wildlife garden! Here are some more ways you can help protect the bats. youtu.be/SkBSgCku628
about a day ago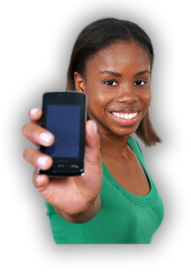 ClimateChangeLIVE Webinars
CLICK HERE for the archives of past webinars:
-- GreenWorks! Action Grants
-- Take Your Class on a ClimateChangeLIVE Distance Learning Adventure
-- Teaching and Communicating about Climate Change
-- Education Resources Highlights – Part 1
-- Education Resources Highlights – Part 2
-- Professional Development Programs for Climate Change Education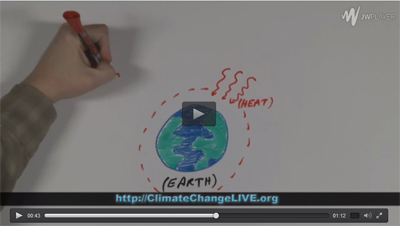 Watch the ClimateChangeLIVE
Distance Learning Adventure Trailer
Welcome to the ClimateChangeLIVE distance learning adventure! The U.S. Forest Service and 26 federal and NGO partners bring climate learning to you through a series of webcasts, webinars, and online climate education resources! The ClimateChangeLIVE electronic field trips are a way to learn about climate change science directly from climate experts, educators, and students. This distance learning adventure provides an amazing collection of science-based, climate education resources and programs, aligned to national science education standards.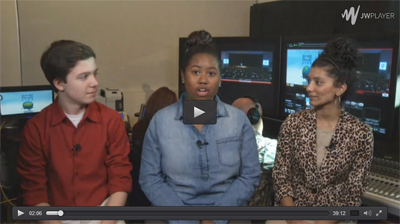 Watch the webcast: Educate, Inspire and Engage!
Features award-winning climate education assembly from the Alliance for Climate Education (ACE).  Videos of youth talking about the impacts of climate change they have experienced where they live. (39 min)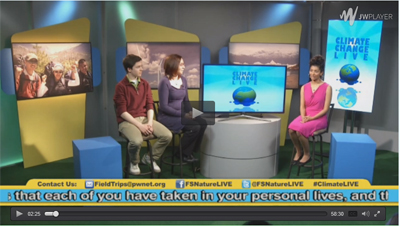 Watch the webcast: Join the Climate Conversation
An interactive event, where students and climate experts discuss climate change and what students and schools across the country are doing to become part of the climate solution.  (55 min)
Please tell us what you think on the EVALUATION.
CLICK HERE for a list of activities to get started with climate change solutions.
CLICK HERE  for information about the GreenWorks! Grant.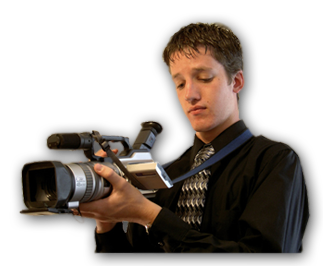 Let's Get
Creative