Let's Talk About
Climate Change
Co2 in our atmosphere is less than .04%. Oxygen is 21%. All free oxygen comes only from photosynthetic processing of Co2. Correct so far? This suggests a scenario wherein the flora world, including plankton, are starving for Co2, and immediately grab whatever Co2 it can find, and turns it into O2 and H20. And, despite all of our burning of fossil fuel, the amount of O2 in the atmosphere does not seem to diminish. How does your computer models account for this?
No model is needed to see why oxygen has not changed despite changes in CO2. Looking at the math will help to show the answer. By weight, CO2 comprises about 0.05% of the atmosphere (it keeps going up because we keep adding more CO2 with fossil fuel...
RT @Cheecker: Great series from @NatGeo! When it comes to awesome adventures, public lands feature pretty prominently.
http://t.co/OVwfFihN…
about 3 days ago
RT @arborday: .@Cheecker: FACT National forest lands are the single largest source of drinking water in the US. #ForestFriday
http://t.co/f…
about 3 days ago
Watch today at 1PM Eastern! Student films in the White House Film Festival. Make a difference!
about a week ago
Climate Change & Happiness - join the party!
about a week ago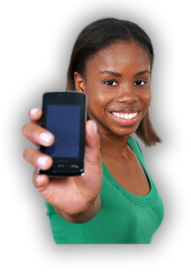 ClimateChangeLIVE Webinars
CLICK HERE for the archives of past webinars:
-- GreenWorks! Action Grants
-- Take Your Class on a ClimateChangeLIVE Distance Learning Adventure
-- Teaching and Communicating about Climate Change
-- Education Resources Highlights – Part 1
-- Education Resources Highlights – Part 2
-- Professional Development Programs for Climate Change Education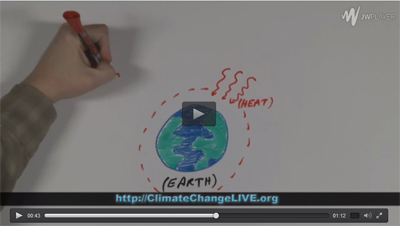 Watch the ClimateChangeLIVE
Distance Learning Adventure Trailer
Welcome to the ClimateChangeLIVE distance learning adventure! The U.S. Forest Service and 26 federal and NGO partners bring climate learning to you through a series of webcasts, webinars, and online climate education resources! The ClimateChangeLIVE electronic field trips are a way to learn about climate change science directly from climate experts, educators, and students. This distance learning adventure provides an amazing collection of science-based, climate education resources and programs, aligned to national science education standards.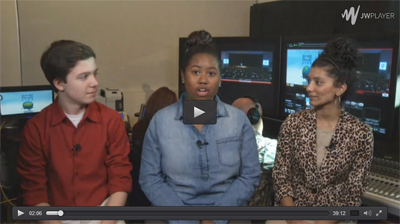 Watch the webcast: Educate, Inspire and Engage!
Features award-winning climate education assembly from the Alliance for Climate Education (ACE).  Videos of youth talking about the impacts of climate change they have experienced where they live. (39 min)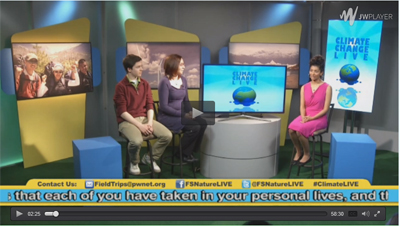 Watch the webcast: Join the Climate Conversation
An interactive event, where students and climate experts discuss climate change and what students and schools across the country are doing to become part of the climate solution.  (55 min)
Please tell us what you think on the EVALUATION.
CLICK HERE for a list of activities to get started with climate change solutions.
CLICK HERE  for information about the GreenWorks! Grant.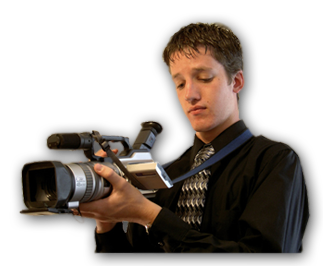 Let's Get
Creative