Lesson Plans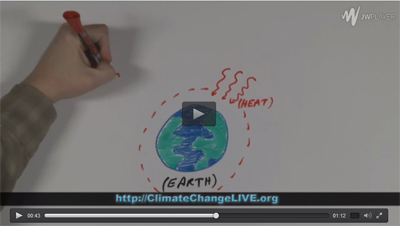 Watch the ClimateChangeLIVE
Distance Learning Adventure Trailer and Webcasts
Grades K - 12
Bringing Climate Change into the Classroom
From the Atmospheric Radiation Measurement Program
http://education.arm.gov/teacherslounge/lessons/climate_change.pdf?id=89
http://education.arm.gov/teacher-lounge/lessons
The ARMEducation Program is involved in climate change educational outreach in the communities and regions hosting the ARMProgram's data-gathering field sites. The goal of the education program is to develop basic science awareness and increase critical thinking skills by focusing on environmental science and climate change for K-12 students.
Climate and Weather
From the National Environmental Education Foundation
http://eeweek.org/greening_stem/toolkits/climate
The dynamic nature of weather and climate make for engaging and challenging topics of study and provide abundant opportunities for exploration in STEM (Science, Technology, Engineering and Math). Here are grade-level resources that engage students in STEM learning about weather and climate.
Climate Change
From the National Environmental Education Foundation
http://eeweek.org/climate_change
Climate change may seem to be a complex topic to teach but here are resources and tools to help educators engage students in learning about climate change.
Climate Literacy & Energy Awareness Network (CLEAN)
http://cleanet.org/index.html
This web site houses a reviewed collection of K-20 educational resources meant to help students' understand the core ideas in climate and energy science. These resources have been linked to the essential climate and energy literacy principles and are searchable in a variety of ways.
Eco-Schools USA
From the National Wildlife Federation
http://www.nwf.org/Eco-Schools-USA.aspx
Eco-Schools USA is a holistic program. It strives to make environmental awareness and action an intrinsic part of the life and culture of a school, including students, teachers, administrative staff, non-teaching staff and parents, as well as the local community.
Energy Education
U.S.Department of Energy
http://www1.eere.energy.gov/education/lessonplans/
Teach your students the importance of green energy while enhancing your required curriculum. Lesson plans can be searched by grade level and topic and are correlated to national science education standards. There are creative lesson plans, labs, projects and other activities for grades K-12 on energy-related topics. Incorporate them into your classroom. Prepare your students for a greener future!
Energy Hog
From the Alliance to Save Energy
http://energyhog.org/
Learning about energy is fun when you include Energy Hogs! The Energy Hog Challenge is a set of classroom activities that guide children through lessons about different sources of energy, how we use energy at home, and how to bust energy hogs to save energy.
Students will:
Learn good energy-saving habits
Protect natural resources for future generations
Energy Kids Teacher Guide
From the U.S.Energy Information Administration
http://www.eia.gov/kids/energy.cfm?page=teacher_guide
Our teacher guide provides energy lessons that use this website as a resource. The guide provides language arts, math, performing arts, science and social studies extension activities by age levels: primary, elementary, intermediate, and secondary.
Energy Star
CLICK HERE for a pdf file that outlines the steps to become an ENERGY STARpartner, benchmark a school and district and apply for recognition, and launch an energy efficiency challenge in the district.
 ENERGY STARGuide to Energy Efficiency Competitions for Buildings and Plants, http://www.energystar.gov/ia/business/challenge/community/Building_Competition_Guide_FINAL.pdf. Learn the benefits of hosting a competition and strategies to help you launch a successful competition in your school or school district.
 ENERGY STARParent and Teacher resources, www.energystar.gov/kids: Click on the Parents and Teachers tab for lesson plans and more games and activities.
Energy4me
http://www.energy4me.org/
This is another organization that has resources and activities for students and also has free kits teachers can order to teach about energy topics.
The Green Education Foundation
http://www.greeneducationfoundation.org/
The Green Education Foundation is a non-profit organization that provides curriculum and resources to K-12 students and teachers worldwide with the goal of challenging youth to think holistically and critically about global environmental, social, and economic concerns and solutions. They have K-12 Lesson Clearinghouse as well as a variety of challenges which students can participate in related to environmental education.
K-12 Lesson Plans & Activities
From the U.S. Department of Energy
http://www1.eere.energy.gov/education/lessonplans/default.aspx
The U.S. Department of Energy Office of Energy Efficiency and Renewable Energy has a searchable library of lesson plans. You will also find the Energy Literacy framework highlighted on this page. The Energy Literacy framework is a standards-like document for educators which identifies the concepts from both the natural and social sciences that someone would know and understand if they were energy literate. There are links to ScienceEducation.gov and to an Energy Basics site that are very useful as well. See EERE's Kids Saving Energy site which was last updated in 2008 but still has a lot of relevant games and information. http://www1.eere.energy.gov/kids/
National Energy Education Development Project
http://need.org/
NEED designs and delivers curriculum and support for virtually any classroom and at any grade level – from kindergarten to high school and beyond – from science and pre-engineering labs to language arts and afterschool clubs. Students use hands-on, inquiry based lessons to explore the physics and chemistry of energy. They engineer turbines and generators, testing their models for maximum electricity output. Students write and perform plays about energy in drama class, calculate payback periods of energy efficient appliances in math class, and discuss the history and human impact of energy use in social studies.
Grades K - 8
Cool the Earth
http://cooltheearth.org
Cool The Earth is a free, ready-to-run climate change assembly program that educates K-8 students and their families about climate change and inspires them to take simple actions to reduce their carbon emissions. The program is successful because it's fun and empowering for the kids, and their enthusiasm is contagious!
TurfMutt
Outdoor Power Equipment Institute (OPEI)'s Education Foundation
http://turfmutt.com
Foster an appreciation of the environment and an interest in the green space in your community with these classroom resources designed for students in grades K-5, recently updated with NEW lesson plans and activities for K-2! With TurfMutt as your guide, your class will get outside, investigate the benefits of landscaping and recycling, plus understand the importance of the lawns, flowers, bushes and trees that surround us every day.
Grades 2 – 4
A Who's Guide to Saving Our Plant for Who's of All Shapes and Sizes!
From the U.S.Department of Energy
http://www.energystar.gov/ia/partners/publications/pubdocs/HortonESActiv508.pdf
This is a 6-page activity book uses Dr. Suess' Horton Hears a Who! to learn the basics of climate change.
Join the Lorax and Help Protect the Earth from Global Warming
From the U.S.Environmental Protection Agency
http://www.energystar.gov/ia/partners/publications/pubdocs/Lorax%20Activity%20Book%206%20pages.pdf
This 6-page activity book features the Lorax:
The Lorax is proud to speak for the earth.
Without it, what would our future be worth?
Now, he needs you to be of assistance
And to the Once-lers among us offer resistance.
Join EPA in spreading the word.
Then finally the voice of the earth will be heard.

Grades 3 – 5
Climate Classroom Kids
From the National Wildlife Federation
http://climateclassroomkids.org/for-educators/
By studying polar bears in the Arcticor penguins in Antarctica, students can learn about climate change. Lesson plans about puffins and seabirds, North American wildlife, parrots and tropical forests, and African wildlife and climate are coming soon.
Grades 3 – 12
Experience Energy for Grades 3 – 8
From the Will Steger Foundation
http://willstegerfoundation.org/curricula-resources/experience-energy
Energy education is an important component of comprehensive climate change education and essential to achieving climate literacy. This 6 lesson curriculum for Grades 3-8 introduces students to energy basics, emphasizes the connection between our energy use and consumption, the resulting impact on our climate and energy solutions that mitigate its impact. It also includes case studies of climate action projects done by high school students and an action template for planning your own solutions based action. This curriculum is aligned to Minnesota State Science Standards and the Energy Literacy Principles.
Global Warming 101 Lesson Plans for Grades 3–6
From the Will Steger Foundation
http://www.willstegerfoundation.org/curricula-resources/grades-3-6
These five lesson plans are interdisciplinary in nature, standards-based, help students master the requisite background information on global climate change processes and how to communicate about the issue using communication strategies.
Minesota's Changing Climate
From the Will Steger Foundation
http://classroom.willstegerfoundation.org/
In the curriculum and online classroom, we explore and learn about Minnesota's unique biomes and what a changing climate will mean for the state. Specifically, we examine how climate has already, and is projected to change in Minnesota; how these changes may impact agriculture, forests and wildlife, aquatic ecosystems, our economy, as well as tourism and recreation; and how you can help reduce these potential impacts and help your biome adapt to a changing climate.
Grades 4 – 6
Learning about Fossil Fuels: For Younger Students
From the U.S.Department of Energy
http://www.fossil.energy.gov/education/energylessons/index.html
Coal is our most abundant fossil fuel. The United States has more coal than the rest of the world has oil. There is still enough coal underground in this country to provide energy for the next 200 to 300 years. But coal is not a perfect fuel. New technology is making it cleaner.
Grades 4 – 8
Polar Bears International
http://www.polarbearsinternational.org/for-teachers
People of all ages are entranced by polar bears' beauty, playfulness, and strength. And for good reason, they have become the iconic symbol of the troubled Arctic ecosystem. Find unit and lesson plans on climate, the Arctic ecosystem, and more.
Grades 5 – 8
Carbon Cycle Activities
From Climate Change, Wildlife and Wildlands: A Toolkit for Formal and Informal Educators
http://www.globalchange.gov/resources/educators/toolkit/materials
A series of activities help provide a basic understanding of the carbon cycle.
Global Warming Wheel Card
From the U.S. Environmental Protection Agency
http://www.epa.gov/climatechange/emissions/wheel_card.html
Educators can work with students to calculate their impact using a climate change calculator. EPA's Global Warming Wheel Card is a hand-held tool that you can use to estimate your household's emissions of carbon dioxide and learn how you can reduce them. One side of the wheel illustrates how much carbon dioxide a household contributes to the atmosphere per year through activities such as driving a car, using energy in the home, and disposing of waste. The other side shows how changes in behavior (such as buying a more fuel-efficient car) can reduce your emissions. The complete Global Warming Wheel Card Classroom Activity Kit has eight components. Instructions for making the wheel are included.
Natural Inquirer
From the USDAForest Service
http://www.naturalinquirer.org/Climate-Change-Edition-i-29.html
The Natural Inquirer is a middle school science education journal with lesson plans, articles, and biographies of scientists. In this edition of the Natural Inquirer you will learn about the effect that climate change may have on animals, plants, and forests. You will also learn how scientists are studying climate change.
A Student's Guide to Global Climate Change > Lesson Plans for Educators
From the U.S. Environmental Protection Agency
http://epa.gov/climatechange/kids/resources/lesson-plans.html
EPA has compiled a suite of hands-on, interactive lesson plans to complement and make use of the material at the web site, A Student's Guide to Global Climate Change (http://epa.gov/climatechange/kids/index.html). The plans work systematically and individually to reinforce students' knowledge of climate change, as well as enhance skills across multiple disciplines. The lessons are correlated to national science standards.
Grades 5 – 12
Arctic Community Online Curriculum
From the Will Steger Foundation
http://www.willstegerfoundation.org/arctic-community-curriculum
We are all members of the community of Planet Earth. Looking in detail at a specific area, namely the Arctic, can help us appreciate the meaning of community. This online curriculum is appropriate for middle school and focuses on different members of the Arctic community including wildlife, scientists, explorers and Arctic peoples.
Climate Change: A Wisconsin Activity Guide
From the Wisconsin Department of Natural Resources
http://dnr.wi.gov/org/caer/ce/eek/teacher/climatechangeguide.htm
The 12 activities in this guide are designed primarily for students in grades 7 to 12. The guide contains activities applicable to a variety of subjects including sciences, math, language arts, social studies, and art. Each activity is designed to stand alone as an individual lesson, however, the more activities students complete, the better they will understand the many aspects of climate change.
Climate Change Lessons
From NASA DATA
http://mynasadata.larc.nasa.gov/ClimChg_lessons.html
The lessons featured on this page provide a few possible ideas for climate change related studies using MY NASA DATA. More climate change related lessons and ideas are welcome.
Global Warming 101 Lesson Plans for Grades 6-12
From the Will Steger Foundation
http://www.willstegerfoundation.org/curricula-resources/grades-6-12
These six interdisciplinary lesson plans were edited and approved by National Geographic Xpeditions and Union of Concerned Scientists, are standards-based, and help students master the requisite background information on global climate change processes, the importance of the Arctic to global climate, the potential effects of global warming in the Arctic, and consider what could/should be done in response. They link to the Will Steger Foundation Global Warming 101 expeditions.
Polar Detectives Activity
From US Ice Drilling Program
http://www.climate-expeditions.org/educators/activities.html
Students make a model of annual ice layers in an ice core, compare physical snow properties against chemical hydrogen peroxide data as methods of dating cores, then graph and analyze historic sulfur data to figure out what might have influenced the climate during the Year Without a Summer.
Grades 9 - 12
Alliance for Climate Education(ACE)
http://www.acespace.org/
ACE provides FREE high school assemblies with a conservation message that challenges students to DOT – do one thing and to join student action teams. Visit their web site to learn how to schedule an assembly at your high school today! ACE is the national leader in high school climate science education. They are dedicated to educating America's high school students about the science behind climate change and inspiring them to do something about it – while having fun along the way. ACE delivers two core offerings: the ACE Assembly and the Student Action Program.
Climate
From NOAA
http://www.education.noaa.gov/Climate/
The resources on this web page were developed to improve Climate Literacy and to provide access to scientific information, which can inform personal decisions about actions that influence climate.
Citizen Climate Curriculum
From the Will Steger Foundation
http://www.willstegerfoundation.org/curricula-resources/citizen-climate
Citizen Climate is for high school students and focuses on global climate solutions. This curriculum emphasizes civic engagement and helps teachers and students understand the critical and complex climate solutions being discussed on the national and international stage. It also allows students to formulate statements about what they would like to see happen in climate policy and how these policies and actions can be replicated in their states and local communities. These lesson plans build on the Will Steger Foundation's Global Warming 101 Grades 6-12 lesson plans on the basics of global warming. The new lessons cover the carbon cycle, target levels for atmospheric levels of greenhouse gasses, cap and trade, carbon tax, new technologies, concerns of developed and developing countries, and how to formulate position statements.
Climate Classroom
From the National Wildlife Federation
http://www.climateclassroom.org/teens/lessonplans.cfm
Lesson plans offer educators a way to connect with students using activity-oriented scenarios and cooperative projects. Lessons are tailored for high school students and are aligned with established teaching standards. All education materials use timely environmental topics to get vital compelling science instruction to classrooms.
Climate Resources
From NOAA
http://oceanservice.noaa.gov/education/pd/climate/welcome.html
Check out the climate change lesson plans, fact sheets, case studies, links and "Teaching Climate" resources.