Lesson Plans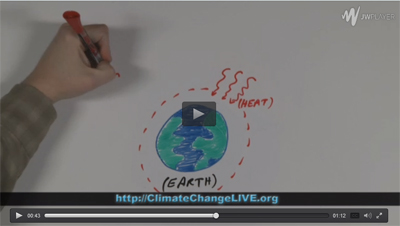 Watch the ClimateChangeLIVE
Distance Learning Adventure Trailer and Webcasts
Grades K - 12
Climate Literacy & Energy Awareness Network (CLEAN)
http://cleanet.org/index.html
This web site houses a reviewed collection of K-20 educational resources meant to help students' understand the core ideas in climate and energy science. These resources have been linked to the essential climate and energy literacy principles and are searchable in a variety of ways.
Eco-Schools USA
From the National Wildlife Federation
http://www.nwf.org/Eco-Schools-USA.aspx
Eco-Schools USA is a holistic program. It strives to make environmental awareness and action an intrinsic part of the life and culture of a school, including students, teachers, administrative staff, non-teaching staff and parents, as well as the local community.
Energy Education
U.S.Department of Energy
http://energy.gov/eere/education/teach-and-learn
Teach your students the importance of green energy while enhancing your required curriculum. Lesson plans can be searched by grade level and topic and are correlated to national science education standards. There are creative lesson plans, labs, projects and other activities for grades K-12 on energy-related topics. Incorporate them into your classroom. Prepare your students for a greener future!
Energy Hog
From the Alliance to Save Energy
http://energyhog.org/
Learning about energy is fun when you include Energy Hogs! The Energy Hog Challenge is a set of classroom activities that guide children through lessons about different sources of energy, how we use energy at home, and how to bust energy hogs to save energy.
Students will:
Learn good energy-saving habits
Protect natural resources for future generations
Energy Kids Teacher Guide
From the U.S.Energy Information Administration
http://www.eia.gov/kids/energy.cfm?page=teacher_guide
Our teacher guide provides energy lessons that use this website as a resource. The guide provides language arts, math, performing arts, science and social studies extension activities by age levels: primary, elementary, intermediate, and secondary.
Energy Star
ENERGY Guide to Energy Efficiency Competitions for Buildings and Plants, http://www.energystar.gov/buildings/tools-and-resources/energy-efficiency-competition-guide. Learn the benefits of hosting a competition and strategies to help you launch a successful competition in your school or school district.
Energy4me
http://www.energy4me.org/
This is another organization that has resources and activities for students and also has free kits teachers can order to teach about energy topics.
The Green Education Foundation
http://www.greeneducationfoundation.org/
The Green Education Foundation is a non-profit organization that provides curriculum and resources to K-12 students and teachers worldwide with the goal of challenging youth to think holistically and critically about global environmental, social, and economic concerns and solutions. They have K-12 Lesson Clearinghouse as well as a variety of challenges which students can participate in related to environmental education.
K-12 Lesson Plans & Activities
From the U.S. Department of Energy
http://energy.gov/eere/education/education-homepage
The U.S. Department of Energy Office of Energy Efficiency and Renewable Energy has a searchable library of lesson plans. You will also find the Energy Literacy framework highlighted on this page. The Energy Literacy framework is a standards-like document for educators which identifies the concepts from both the natural and social sciences that someone would know and understand if they were energy literate. There are links to ScienceEducation.gov and to an Energy Basics site that are very useful as well. See EERE's Kids Saving Energy site which was last updated in 2008 but still has a lot of relevant games and information. http://www1.eere.energy.gov/kids/
National Energy Education Development Project
http://need.org/
NEED designs and delivers curriculum and support for virtually any classroom and at any grade level – from kindergarten to high school and beyond – from science and pre-engineering labs to language arts and afterschool clubs. Students use hands-on, inquiry based lessons to explore the physics and chemistry of energy. They engineer turbines and generators, testing their models for maximum electricity output. Students write and perform plays about energy in drama class, calculate payback periods of energy efficient appliances in math class, and discuss the history and human impact of energy use in social studies.
Grades K - 8
Cool the Earth
http://cooltheearth.org
Cool The Earth is a free, ready-to-run climate change assembly program that educates K-8 students and their families about climate change and inspires them to take simple actions to reduce their carbon emissions. The program is successful because it's fun and empowering for the kids, and their enthusiasm is contagious!
TurfMutt
Outdoor Power Equipment Institute (OPEI)'s Education Foundation
http://www.scholastic.com/turfmutt/parents/
Foster an appreciation of the environment and an interest in the green space in your community with these classroom resources designed for students in grades K-5, recently updated with NEW lesson plans and activities for K-2! With TurfMutt as your guide, your class will get outside, investigate the benefits of landscaping and recycling, plus understand the importance of the lawns, flowers, bushes and trees that surround us every day.
Grades 2 – 4
A Who's Guide to Saving Our Plant for Who's of All Shapes and Sizes!
From the U.S.Department of Energy
http://www.energystar.gov/ia/partners/publications/pubdocs/HortonESActiv508.pdf
This is a 6-page activity book uses Dr. Suess' Horton Hears a Who! to learn the basics of climate change.
Join the Lorax and Help Protect the Earth from Global Warming
From the U.S.Environmental Protection Agency
http://www.energystar.gov/ia/partners/publications/pubdocs/Lorax%20Activity%20Book%206%20pages.pdf
This 6-page activity book features the Lorax:
The Lorax is proud to speak for the earth.
Without it, what would our future be worth?
Now, he needs you to be of assistance
And to the Once-lers among us offer resistance.
Join EPA in spreading the word.
Then finally the voice of the earth will be heard.

Grades 3 – 6
Climate Classroom Kids
From the National Wildlife Federation
http://climateclassroomkids.org/
The lesson plans and information are designed for educators of grades 3-6 with adaptations for additional grades. Students of all ages, who love wildlife and want to learn more about these amazing animals, will enjoy it too. Our hope is that all will better understand the effects of climate change on wildlife habitat and become inspired to take actions to reduce carbon pollution.
Grades 3 – 12
Climate Generation: A Will Steger Legacy
https://www.climategen.org/take-action/teach-climate-change/
Climate Generation offers a suite of Grades 3-12 curriculum resources in the form of curriculum guides, as well as online modules that can be downloaded for free.
Minesota's Changing Climate
From Climate Generation: A Will Steger Legacy
https://www.climategen.org/take-action/teach-climate-change/curriculum/minnesotas-changing-climate-curriculum-for-grades-3-12/
This set of lesson plans explores Minnesota's unique biomes and what a changing climate will mean for the state. It is considered a model for place-based climate change education.
Grades 4 – 6
Learning about Fossil Fuels: For Younger Students
From the U.S.Department of Energy
http://www.fossil.energy.gov/education/energylessons/index.html
Coal is our most abundant fossil fuel. The United States has more coal than the rest of the world has oil. There is still enough coal underground in this country to provide energy for the next 200 to 300 years. But coal is not a perfect fuel. New technology is making it cleaner.
Grades 4 – 8
Polar Bears International
http://www.polarbearsinternational.org/for-teachers
People of all ages are entranced by polar bears' beauty, playfulness, and strength. And for good reason, they have become the iconic symbol of the troubled Arctic ecosystem. Find unit and lesson plans on climate, the Arctic ecosystem, and more.
Grades 5 – 8
Carbon Cycle Activities
From Climate Change, Wildlife and Wildlands Toolkit for Formal and Informal Educators
Here are three activities to teach about the carbon cycle.
https://downloads.globalchange.gov/toolkit/Carbon_Cycle_A1%20_6.9.09.pdf
https://downloads.globalchange.gov/toolkit/Carbon_Cycle_A2%20_6.9.09.pdf
https://downloads.globalchange.gov/toolkit/Carbon_Cycle_A3%20_6.9.09.pdf
Natural Inquirer
From the USDAForest Service
http://www.naturalinquirer.org/Climate-Change-Edition-i-29.html
The Natural Inquirer is a middle school science education journal with lesson plans, articles, and biographies of scientists. In this edition of the Natural Inquirer you will learn about the effect that climate change may have on animals, plants, and forests. You will also learn how scientists are studying climate change.
Grades 5 – 12
Climate Change: A Wisconsin Activity Guide
From the Wisconsin Department of Natural Resources
http://dnr.wi.gov/org/caer/ce/eek/teacher/climatechangeguide.htm
The 12 activities in this guide are designed primarily for students in grades 7 to 12. The guide contains activities applicable to a variety of subjects including sciences, math, language arts, social studies, and art. Each activity is designed to stand alone as an individual lesson, however, the more activities students complete, the better they will understand the many aspects of climate change.
Climate Expeditions Ice Activities
http://icedrill-education.org/content-for-educators-5-12/
Find inquiry-focused classroom activities developed by the Ice Drilling Program Office.
Grades 9 - 12
Alliance for Climate Education (ACE)
http://www.acespace.org/
The Alliance for Climate Education's mission is to educate young people on the science of climate change and empower them to take action. First, we teach climate science that puts teenagers at the center of the story. Our live, in-school assembly is award-winning and proven to work. Second, we give every student a chance to take action. For some, it's a small lifestyle change. For others, it's hands-on preparation for a lifetime of leadership.
Climate
From NOAA
http://www.education.noaa.gov/Climate/
The resources on this web page were developed to improve Climate Literacy and to provide access to scientific information, which can inform personal decisions about actions that influence climate.
Climate Resources
From NOAA
http://oceanservice.noaa.gov/education/pd/climate/welcome.html
Check out the climate change lesson plans, fact sheets, case studies, links and "Teaching Climate" resources.